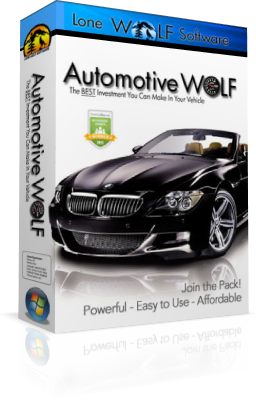 Vehicle Maintenance Log


Preventive Maintenance Reminders


Automatically Reschedules Maintenance


User Defined Maintenance


Fuel Economy Tracking


Tracks & Analyzes Operating Costs


Detailed Reports CLICK HERE

Vehicle Health Status Gauge


Monitoring Gauges


Saves a Detailed Parts List


Manufacturer Specifications


Extends Operating Life


Increases Resale value


Life-Time Free Upgrades

Only $29.95
$39.95 Pro

Good car maintenance is essential to keeping your car running well, increasing fuel economy, extending its operating life, minimizing repair costs, maximizing its resale value and maintaining it's performance.
Automotive Wolf is a complete car management software solution that makes it easy to keep up with your car maintenance schedule, remind you when any vehicle maintenance is due and monitor your vehicles overall condition, operating costs, fuel economy and much more.
Automotive Wolf maintains a detailed vehicle maintenance log book for you that will significantly increase the resale value of your vehicle and make it much easier to sell to any prospective buyer when you can show it's maintenance history and prove that you've taken good care of it.
Automotive Wolf was designed for any average family car owner, backyard mechanic or car enthusiast. You can manage multiple vehicles, configure it's preventive maintenance schedule in seconds and create user defined maintenance requirements specific to your vehicle. Each individual maintenance item can be configured by Time, Distance (mileage) or both.
Click Image to enlarge

Designed with a professional graphical interface that makes it easy to monitor your vehicles maintenance status and overall condition.
---

Vehicle Maintenance Log Book
Comprehensive Maintenance Log to Track Car Maintenance and Repair History:

When any maintenance is completed for the vehicle it's recorded in the vehicle maintenance log book and the maintenance item is automatically rescheduled according to the requirements parameters (Time, Distance). Separate sections are included for car maintenance and repairs.

Car Maintenance Schedule Configuration
Quick & Easy Configuration Manager:

Auto configure your car maintenance schedule in seconds (High, Med, Low) or tailor it to your personal preferences or manufacturers recommended service schedule.
All preventive maintenance requirements can be disabled, edited or you can create your own.

What does your vehicle cost you per day, per mile?
Automatically tracks all costs and expenses:

Have you ever wondered what it costs you to own and maintain your vehicle? How much you spend on fuel, repairs or maintenance per year? Automotive Wolf performs an in-depth cost analysis that shows you when and where your money is being spent, how much you have invested in the vehicle, and when you may want to consider trading it in.

Fuel Economy Tracking
Tracks fuel consumption and costs:

Maintains a detailed record of fuel usage and associated costs. Automatically calculates fuel economy mileage (MPG) between fill-ups and displays trends so you can make good decisions on what are the best fuel brands and octane to use. Monitoring fuel economy can alert you to potential engine problems when MPG decreases.

Monitors Vehicle Health
Vehicle Health Status Gauge:

D

isplays the current overall condition of your vehicle. You can modify it to your own personal preferences to define what maintenance requirements effect its final result. A quick check and you will know if your vehicle is in good running condition. You can also create gauges to monitor any vehicle maintenance requirement.

Informative Reports:
View, Print & Export Reports:

Each Report can be exported into multiple formats (pdf, Excel, CSV, Lotus, Rich Text, Word docs, XML and more). Print out a "What's Due" List for your mechanic of maintenance that's overdue or present a prospective buyer of your vehicle with an impressive detailed maintenance log that will prove you've taken good care of your car.

Configure Maintenance Requirements:
Modify Individual Maintenance requirements:

Create, delete or modify maintenance requirements for each vehicle you own. Easily match each requirement to your manufacturers recommended service schedule.
---

Take It For a Free Test Drive:
30 Day Free Trial:

Join thousands of happy customers that use Automotive Wolf everyday to manage their vehicles helping them to save money on unnecessary repairs and keep their vehicles in excellent operating condition.


No Risk 30 Day Free Trial
Only $29.95
$39.95 Pro