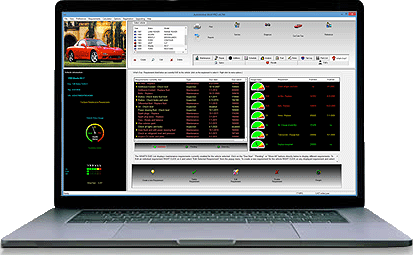 Good vehicle maintenance is essential to keeping your car, truck, boat, motorcycle or even a lawn mower running well, increasing fuel economy, extending its operating life, minimizing repair costs, maximizing its resale value and maintaining it's performance. All of these factors save you money every day and ultimately can save you literally thousands of dollars over the life of a vehicle.
Automotive Wolf is a complete maintenance & management software solution that makes it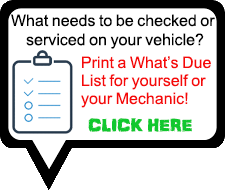 easy to keep up with your car maintenance schedule, remind you when any vehicle maintenance is due and monitor your vehicles overall condition, operating costs, fuel economy and much more. It's the only Car Care Software that monitors your driving habits and accurately predicts when any car maintenance is due.
Why should you use Automotive Wolf to manage your car maintenance?
1. Safety: Regular maintenance helps ensure the safety of both the driver and passengers. Components like brakes, tires, and suspension need to be in good condition to maintain control of the vehicle and respond effectively in emergency situations.
2. Reliability: Regular maintenance helps prevent unexpected breakdowns and costly repairs. By addressing minor issues before they turn into major problems, you can avoid being stranded on the side of the road and experiencing inconvenience or delays.
3. Extended Lifespan: Proper maintenance can significantly extend the lifespan of your car. Regular oil changes, filter replacements, and fluid checks help keep the engine running smoothly and reduce wear and tear on vital components. This can save you money in the long run by avoiding the need for premature replacement of major parts.
4. Improved Fuel Efficiency: Well-maintained cars tend to have better fuel efficiency. Clean air filters, properly inflated tires, and a well-tuned engine contribute to optimal performance, reducing fuel consumption and saving you money at the pump.
5. Resale Value: If you plan to sell or trade in your car in the future, regular maintenance can help maintain its resale value. A well-documented maintenance history indicates to potential buyers that the vehicle has been cared for, increasing its appeal and potentially commanding a higher price.
6. Warranty Compliance: If your car is under warranty, adhering to the manufacturer's recommended maintenance schedule is crucial. Failure to do so may void your warranty, leaving you responsible for the cost of repairs that would have otherwise been covered.
7. Environmental Impact: Proper car maintenance can also have a positive impact on the environment. Regularly servicing your vehicle helps reduce emissions, ensures the proper functioning of pollution control systems, and minimizes the risk of leaks or spills that could harm the environment.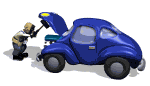 Overall, good car maintenance is a proactive approach that promotes safety, reliability, longevity, and cost-effectiveness. By investing time and effort into taking care of your vehicle, you can enjoy a smoother and more enjoyable driving experience while avoiding unnecessary expenses and inconveniences.
Automotive Wolf maintains a detailed vehicle maintenance log book for you that will significantly increase the resale value of your vehicle and make it much easier to sell to any prospective buyer when you can show it's maintenance history and prove that you've taken good care of it. Create gauges to track any maintenance requirement.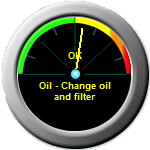 Designed for any average family car owner, backyard mechanic or car enthusiast. You can manage multiple types of vehicles, configure it's preventive maintenance schedule in seconds and create user defined maintenance requirements specific to your vehicle. Each individual maintenance item can be configured by Time, Distance (mileage) or both.
Click Image to enlarge

Designed with a professional graphical interface that makes it easy to monitor your vehicles maintenance status and overall condition.
Click for video demo on creating a vehicle

Vehicle Maintenance Log Book

Click Image to enlarge

Comprehensive Maintenance Log to Track Car Maintenance and Repair History:

When any maintenance is completed for the vehicle it's recorded in the vehicle maintenance log book and the maintenance item is automatically rescheduled according to the requirements parameters (Time, Distance). Separate sections are included for car maintenance and repairs.

Car Maintenance Schedule Configuration

Click Image to enlarge

Quick & Easy Configuration Manager:

Auto configure your car maintenance schedule in seconds (High, Med, Low) or tailor it to your personal preferences or manufacturers recommended service schedule.
All preventive maintenance requirements can be disabled, edited or you can create your own.

What does your vehicle cost you per day, per mile?

Click Image to enlarge

Automatically tracks all costs and expenses:

Have you ever wondered what it costs you to own and maintain your vehicle? How much you spend on fuel, repairs or maintenance per year? Automotive Wolf performs an in-depth cost analysis that shows you when and where your money is being spent, how much you have invested in the vehicle, and when you may want to consider trading it in.

Fuel Economy Tracking

Click Image to enlarge

Tracks fuel consumption and costs:

Maintains a detailed record of fuel usage and associated costs. Automatically calculates fuel economy mileage (MPG) between fill-ups and displays trends so you can make good decisions on what are the best fuel brands and octane to use. Monitoring fuel economy can alert you to potential engine problems when MPG decreases.

Monitors Vehicle Health
Vehicle Health Status Gauge:

D

isplays the current overall condition of your vehicle. You can modify it to your own personal preferences to define what maintenance requirements effect its final result. A quick check and you will know if your vehicle is in good running condition. You can also create gauges to monitor any vehicle maintenance requirement.

Informative Reports:

Click Image to enlarge

View, Print & Export Reports:

Each Report can be exported into multiple formats (pdf, Excel, CSV, Lotus, Rich Text, Word docs, XML and more). Print out a "What's Due" List for your mechanic of maintenance that's overdue or present a prospective buyer of your vehicle with an impressive detailed maintenance log that will prove you've taken good care of your car.

Configure Maintenance Requirements:

Click Image to enlarge

Modify Individual Maintenance requirements:

Create, delete or modify maintenance requirements for each vehicle you own. Easily match each requirement to your manufacturers recommended service schedule.



Create &

Track Maintenance on any type of Vehicle

Click Image to enlarge

Unlimited Maintenance Tracking Options

:



Select from multiple types of vehicles to track and monitor the maintenance schedule including cars, trucks, RV's, vans, motorcycles and hourly tracked items like boats, planes, generators, lawn mowers and more.

Take It For a Free Test Drive:
30 Day Free Trial:

Join thousands of happy customers that use Automotive Wolf everyday to manage their vehicles helping them to save money on unnecessary repairs and keep their vehicles in excellent operating condition.


No Risk 30 Day Free Trial
Only $29.95
$39.95 Pro
---
Click on Video below to view the Reports Option in Automotive Wolf
Click on the Promotional Video below

more testimonials....


I am the happy owner of your Automotive Wolf Software. I adore it. You don't know how happy it makes me that I have such detailed servicing analysis available for my cars. A home mechanic's dream come true. Kyle J. Nov 2019

---

Hello, my name is Josh and I run a mid-sized auto shop. I have recently purchased your software to use at my shop. I must say I absolutely love the product, It has been a blessing around the shop! Josh C. CWO and Fleet Technician
---

Hey, just wanted to thank you for such a superb product. I've been using your car maintenance software now for over 5 years to track 2 cars, a motor-home, my boat and even a lawn mower. Everything is running great and I love the free updates Thomas S, Clearwater FL

---

" I have been a very long user of your Automotive Wolf Software.

I continue to be astonished by its stability, thoroughness, accuracy and ease of use.

Every time I use it, I want to say "thanks". I only use it for home use of my vehicles. And over time, I have had motherboards fry, bought new computers, had hard disk drive crashes or corruption, etc and WITHOUT exception you have stood by me to issue me new keys so I could get back up and running. I keep my vehicles a very long time and your program has treated me very well. Case in point: My now-deceased uncle about 10 years ago gave me his bare-bones 1990 Ford Ranger pickup. I have maintained the vehicle scrupulously using Automotive Wolf here in Arizona. I just upgraded to a larger truck but when it came time to sell the Ranger (valued at $1,000 to $1,300 tops), the first person who looked at the truck last month gave me $1,700 cash, excited to see my Automotive Wolf-based Maintenance Binder showing all repairs, parts, additions, receipts, and other documentation. So again, THANK YOU for your outstanding program but most of all, thank you for your SUPERB customer service to me over the many years I have used it. "Steve P.
---

"WOW this is a really good program, and I am impressed with its functions.
It is simple, and I purchased 3 other software programs prior, and all were good but not exactly what I needed " Renato D. July 2021
---

" I use your automotive software at work I love it I have 40 lift trucks and it makes my life so much better thank you " John S. July 2021
---

" I'm definitely enjoying the car care software, as it's the most comprehensive, but still user friendly program I've found! " Pat P June 2021
---

" I enjoy your product works very well easy to use great reports and export features " Eric R. June 2021
---

"I've been looking for a good car maintenance program for a while and found Automotive Wolf. I love the comprehensive vehicle maintenance log it creates for each vehicle along with the detailed parts list. This is exactly what I need. Excellent product. " Sam P. 3/2021
---