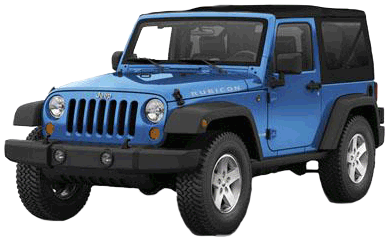 Good car maintenance is essential to keeping your car running well, increasing fuel economy, extending its operating life, minimizing repair costs and maximizing its resale value. Automotive Wolf is a complete car care software solution that's easy to learn, quick to master and designed to enable you to reach these goals.

It constantly analyzes your driving habits to be able to predict maintenance issues in the future. So even if you neglect to use the software for a while, it can notify you every time you boot-up your computer and automatically send you email reminders of upcoming required car maintenance.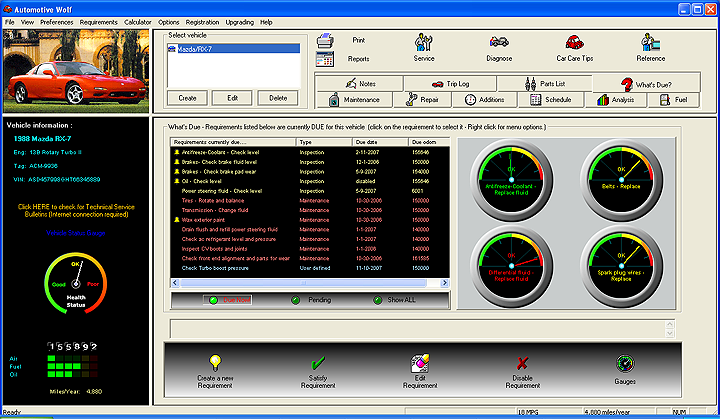 Automotive Wolf was designed with all car owners in mind. Whether you are the average family car owner, backyard mechanic or serious car enthusiast you will now be able to manage your vehicle maintenance schedule with ease.
Tracks Vehicle Maintenance and Repair History

Create your own maintenance schedule for each vehicle you own

Alerts & Reminds you when any Car Maintenance is Due

Saves you Money by helping you to avoid unnecessary Repairs

Monitors Fuel Economy & Tracks and Analyzes All Operating Costs

Significantly Extends the Operating Life of your Vehicle

Increases the Resale Value by Maintaining a Detailed Maintenance Record

Completely User Configurable for Any Car, Truck or Motorcycle
Automotive Wolf CAR Care - 30 Day Free Trial

Take it for a Test Drive ... and RELAX while Automotive Wolf handles your car maintenance schedule
Automotive Software for Every Car Owner!
Tracks Car Maintenance, Repairs, Fuel Mileage, Operating Costs, Parts & More

Only $29.95 Standard version - $39.95 PRO version


Add the installation CDROM for an additional $5.00

The PRO version includes unlimited gauges to track maintenance items and Automatic Email Reminder options when any vehicle maintenance is due.
| | |
| --- | --- |
| Vehicle Health Status Gauge lets you know the condition of your vehicle at a glance. | Quick Look Video |
Recent customer comments....
"I have used the car software for many years and it has saved me a tremendous amount of money on breakdowns and repairs. As a result, my 2000 Honda Accord has 215000 miles on the original drive train and still going! My 1999 Dodge Durango, 147000 miles. Thanks for the awesome software!" Mark A. Feb 2014