Intro
Buy Now
Download
Features
More Info
Screen Shots
Reviews
FAQ
30 Day Free Trial
NO RISK - NO HASSLE

only $29.95

PRO Version
only $39.95



Phone orders : Call toll free:
1-877-REGSOFT
to order today
If ordering by phone - please specify:
Automotive Wolf
Product ID 30360
or
Automotive Wolf
PRO Version
Product ID 78390
---

"we have avoided costly repair bills"
We easily manage 20 vehicles with this program, and believe that we have avoided costly repair bills due to its intuitive tracking of routine maintenance, Something else that is truly amazing is the tech support for registered users, its unbeatable

Bob and Mike
Leland, VA

"The best program I've ever downloaded"
Really nice Automobile Software! It reminds me when maintenance is due and tracks everything you can imagine. I use Automotive Wolf to maintain the trucks in my construction company and my family vehicles. Well designed software thats easy to use and does a great job. Highly recommended! One of the best programs I've ever downloaded.

Construction Unlimited
Waco, TX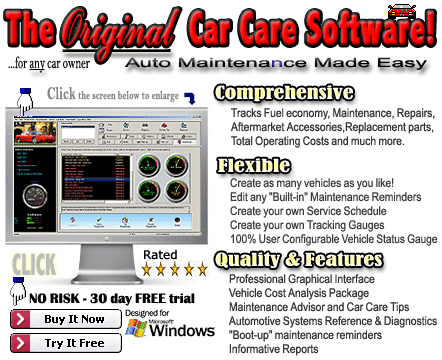 Powerful, easy to use, Low-Cost Automobile Software:


Easily track your repairs, maintenance, fuel usage, operating costs and much more. Setup your own maintenance reminders or let our built-in advisor configure each vehicle for you.
Outstanding features, Unlimited storage capacity and 100% Flexibility:


Create as many vehicles as you like and store a wide variety of information from vehicle paint codes to emissions inspection results. Configure your vehicles according to your own personal preferences.

Click here

The Top Ten Reasons to Track Vehicle Maintenance with Automotive Wolf

Research and Review Technical Service Bulletins (TSB's) issued for your vehicle!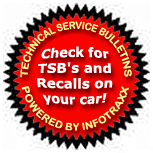 The only Automobile Software that integrates seamlessly with the Infotraxx TSB database. Whether you are trying to diagnose an unknown issue, research a new car or find instructions to "do-it-yourself", TSB and Recall documents are the best place to start. Purchase Automotive Wolf PRO and get Infotraxx TSB access for one vehicle FREE! Click HERE to see an example of the type of data you can view on your vehicle.
Professionally Designed :


Developed with a team of automotive experts with over 100 years of experience in the field of automotive repair and design. Actually save money and increase the resale value of your vehicle by simply using the software and following their recommendations. Taking good care of your investment has never been easier!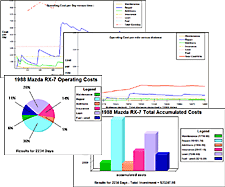 ..the best cost analysis package in the industry!
Have you ever wondered what it costs you to own and maintain your vehicle or how much you spend on fuel per year ?
Automotive Wolf performs an in-depth cost analysis that shows you when and where your money is being spent, how much you have invested in the vehicle, and when you may want to consider trading it in.
An Award Winning Interface :


Designed with a Professional Graphical Interface that includes functional gauges that you can set up to monitor any maintenance requirement and a Vehicle Health Status Gauge based on your preferences that displays the overall condition of your vehicle at a glance.
Quality Automobile Software that's feature packed! One program that will handle all of your vehicles.
Desktop PC and Pocket PC versions available!
Automotive Wolf PC Desktop Edition

The Automobile Software that makes it easy to keep your vehicle in top running condition and avoid costly repairs!

PC Edition




Auto Wolf Pocket PC Edition


Now also available for your Pocket PC!
Use the download link above if you have
a PDA running Pocket PC 2003 or later.

Auto Wolf Pocket PC Edition can be used as a "stand-alone" product to manage your vehicle maintenance or to capture data while "on the road" and then transfer the data from the PDA to the Desktop PC Edition using the built-in "Sync" capability.

Need Both the PC and PDA version ?
Purchase the NEW Automotive Wolf Car Care Combo Pack !
Purchase BOTH the Desktop PC Edition AND the Mobile Pocket PC Edition for one low price of $44.95
Click HERE for the Combo Pack purchasing options:


What our customers are saying about Automotive Wolf ...

I cannot imagine managing my fleet of courier vehicles without Auto Wolf! The reports, analysis functionality and ease of use make this an unbelievably powerful tool. This application not only ameliorates the headache of vehicle maintenance, it makes it a fun experience. I would absolutely act as a reference for this program! - give 'em my cell phone number!
Bravo!
Jeff Proffitt
Transportation Manager
IDEXX Labs, Inc.

We sold a '99 Jeep Grand Cherokee about a year ago and got better than average price for it because we had kept all records since new on Automotive Wolf. We were able to show the buyer the detailed records and he was able to verify them. He said he had never seen such good records kept on a vehicle. I told him it was easy with your program!
Cliff Stansbery


This is one of the best programs I've ever seen ! I tried out several others but Automotive Wolf is easily superior. This is commercial quality Automobile Software that has options and flexibility that none of the other programs I tried even came close too. It's very stable and beautifully designed. A great download!
Jack Morrison

I have been using your software for one year now and I love it. I have a small fleet of Ford Crown Victorias (6) and your software makes it easy and fun to track fuel usage, mileage, repairs, and maintenance. I like it so much that I have recommended it to all members of our Crown Vic web site!! You wouldn't believe how many people email me asking where they can get it! Keep up the great work .

J Hunchard
Franklin, Massachusetts
See why Automotive Wolf has become the most popular Automobile Software available !
You won't find a better value anywhere.