Backup Wolf Backup Software Screen Shots


The Backup Wolf windows are organized sequentially. You click on each window tab in order to follow the backup procedure. It's designed to make it fast and easy. This isn't rocket science...its just good programming!


2) Define backup profile window
Where you select files/folders to back up






---

When you see the "Seal of Approval" displayed after a backup you will know that your data is safe !

Backup Software that solves the "Backup Procrastination Syndrome".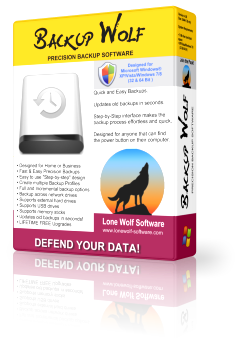 Designed for Home or Business.
Backup Wolf (TM) Backup Software is a Trademark of Lone Wolf Software. All Rights Reserved.

Copyright © 2020 Lone Wolf Software - www.lonewolf-software.com
INTRO | Features | Purchase | Download | Screen Shots | Reviews | FAQ | EULA | CONTACT US