Contact Wolf Video Demos:

Click on any of the Videos below to see the Demo
Hover mouse over bottom right corner of video and click for Full Screen


A Quick Look ....

Birthday & Anniversary Reminders Demo

Email Configuration Demo

Text Messaging Demo

How to Use Groups Demo

How to Import Data from other Contact Manager Address Software

Contact Wolf Contact Management Address Software Introduction
( captioned )

Join thousands of satisfied Home & Business customers that use Contact Wolf everyday to effortlessly manage all their contact information.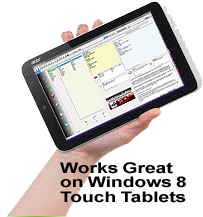 Contact Wolf is Network Compatible if you want to share the database and includes an InstallShield wizard for easy installation.
We also include Free Support and FREE Life-Time Upgrades!
---
Customer Feedback....

"Superb design and easy to learn. I use it at home and to run my business. The best contact manager software I've ever used." CNET Reviewer: Sam Orwell

"My only question is why can't all software be this good!" Roger K.

"Thank you for this software. It's wonderful." Patty T. LA CA