Click the image to see a larger screen shot.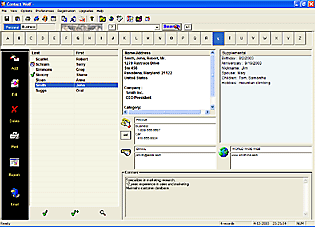 "Just what I needed"
I own a landscaping business and I needed contact software to keep track of my customers and employees. Contact Wolf lets me organize all my clients, etc. into my own categories so that I can easily maintain my customer information and even send out mailing campaigns using the label printing. This software has become my most valuable addition to my business! It's just what I needed.
Ray Grant

"very useful "
Contact Wolf's reminder alarms are very useful to remind me of my families birthdays and anniversaries. I wish I would have found this program a long time ago!
Maria Sciatto
Contact Wolf's award winning design sets a new standard in Contact management software ! An intuitively easy to use interface lets you start building your contact database without hesitation.
Keep detailed records on everyone you know - Phone numbers, addresses, internet addresses, family info, business details, personal comments and more !

Designed for both home and business. Contact Wolf is completely compatible with almost any network. If you are a business user with multiple work stations you can easily configure Contact Wolf to share its database between all users on your network. Contact Wolf works great too if you are an average home user with only one computer... but if you decide to purchase another computer in the future why not have software that can grow with you !

Contact Wolf is powered by a dynamic relational database engine that grows as needed. Its capacity is unlimited ! Why ever worry about reaching some imposed limit ? ... with Contact Wolf there is no worry!

Includes one button emailing, one button website access, full search and find capability for any keyword or phrase, formatted reports, user configurable data fields, and an INFO-pedia with an up-to-date database that contains all US Area Codes, Zip Codes, and International Dialing Codes !

Set an alarm reminder for any record in the database. Its a perfect way to remind you of Birthdays, Anniversaries and anything else you can think of ..

We include a Help file of course...we just don't think you'll ever need to use it!


Contact Wolf gives you the information you need , when you need it !